Effective presentation is very important for demonstrating and selling your design. Power Point presentation is good, but you can make a better, more effective presentation using the ShowMotion feature of AutoCAD 2009.
Why use ShowMotion instead of good old Power Point?
Power Point is a general kind of tool. You can explain your design intent in a better way by using ShowMotion in AutoCAD 2009. In Power Point you can paste only still snaps, whereas if you use ShowMotion you can show still shots, recoded walk shots, and cinematic shots. In other words, ShowMotion will give you some features of animation without wasting much of your time. Creating a ShowMotion presentation is easy, and the presentation is saved along with the drawing, hence requiring fewer computer resources.
How to do it?
You can turn on the ShowMotion tool two ways: either you can go to Menu → View → ShowMotion or alternatively you can click on the ShowMotion icon at the bottom right corner of you workspace. (Hover mouse over image to read label or click to enlarge.)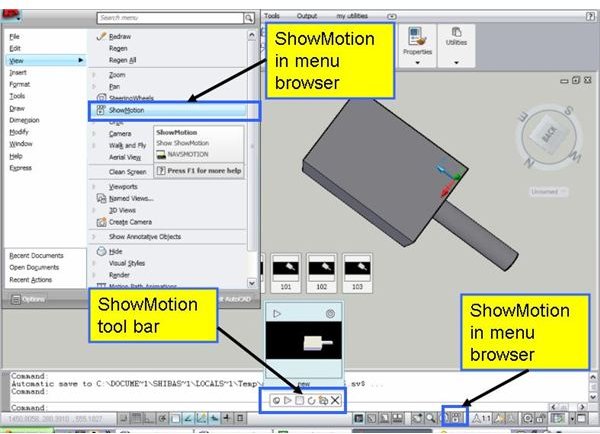 By going to any of the two methods you will get the ShowMotion tool bar to appear in the screen. You will see a total of six tools in the toolbar:
The first tool is for pin/unpin tool bar. If you unpin it and click anywhere in the screen the showMotion tool bar will be removed.

The second tool is to play the snaps/shots.

The third one is to stop the snap show.

The fourth one is to toggle between loop and unloop. If you loop it, the snap show will run continuously.

The fifth one is to create a new shot/snap. Actually we will start from this.

The last one is to close the ShowMotion tool bar.
For creating a new presentation, you need to place the model at the desired location as you want to see it. Click on the fifth tool to create a new shot. A New View/Shot Properties window will open. Give a name for the shot in the View Name field. The next field is View Category, so if you are going make a single presentation then give a common name for creating all the snaps.
Under view type you have to specify whether you want still, cinematic (means animated), or recoded walk (walk away view).
Next you have to specify transition types, if you don't want you model to be faded away you can select cut to shot.
By specifying remaining options you will be specifying the camera motions.
Click OK after you finish all the selections.
Create as many shots as you want and hit the play button. Your animated presentation is ready.
ShowMotion is a great tool to make effective presentations in AutoCAD 2009. You can create still presentations (like Power Point) or you can create animated or walk away presentations like 3D Max. To AutoCAD's credit, creating all this is very easy and requires very little time.