How to Work with Action Recorder in AutoCAD 2009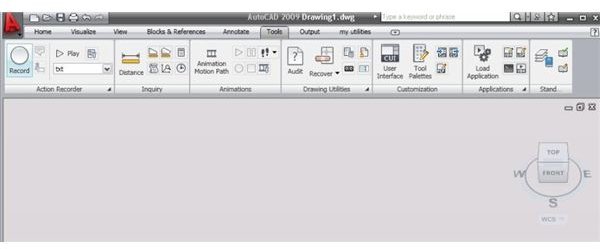 AutoCAD 2009 comes up with a concept of recording steps and reusing them later, which is much like "mapkeys" in Pro Engineer. You can record repetitive steps and store it in a macro, and the same macro can be run later to get those steps performed again. Once you record a macro using action recorder, you can use it later at any time in any other drawings in AutoCAD 2009.
What Can be Done with AutoCAD 2009 Action Recorder?
You can easily record one or more steps. You might want to choose the combination of commands/actions that you require frequently. For example, you may often need to include some specific text such as FOR REFERENCE ONLY or PRELIMINARY DRAWING, etc. every now and then, or you may use Action Recorder for adding some specific Multileader.
You can add some specific message at various steps, and you can get user input while playing the macro.
How to Use It
Go to the Tools ribbon tab and you will notice there a panel called Action Recorder. By clicking the Record button you will be able to record the necessary steps. Once you click, it will change its shape and convert to a rectangular shaped Stop button. Perform the necessary steps/commands which you want to record, and, after doing all the steps, click on the Stop button. A separate dialogue box will open where you can enter a command or title name for the recorded macro. It is preferable to use short names because you will be typing this title in the command prompt when you want to run the macro later.
How to Ask for User Input when the Macro Runs
You can see the name of the action macro you have just created, in the drop down list of the action recorder panel. Click on the fly-out next to Action Recorder, and you can see all the steps/command you performed to create the action macro.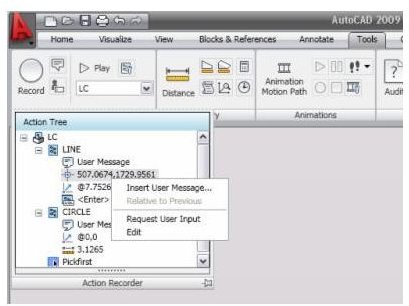 Right click on any of the commands and click on Insert user message. You will get a dialogue box where you can type the text you want to show your user. When the action macro is run, the message will be displayed before performing that particular step. Only when user clicks on OK will the macro proceed further.
Similarly, you can add a request for user input with the action macro by right clicking any of the commands and selecting Request for user input. What it will do is ask the user to select an option whether he/she would like to go with default recorded value or see the result with some new value.
How to Run the Recorded Action Macro
You can go to Tools → Action Recorder, select the macro you want to play in the drop down list, and then click on Play. A bit simpler way is there as well - just type the name of the action macro in the command prompt and press Enter. It works both ways.