AutoCAD 2009 is having a greater amount of flexibility in terms of appearance. You decide which are the set of tool icons you want to see and only those could be brought to your drawing window and that too very easily without wasting much time. Work space concept helps achieving this.
What is a work space?
As per types of drawing, the ribbon tabs, icons etc. has been clubbed in AutoCAD 2009 to create most suitable drawing environment, each pre defined drawing environments are called work spaces. So, from changing one types of drawing to another you simply need to switch from one work space to another. By default AutoCAD 2009 is having three workspaces, like 3D modeling, 2D drafting & annotation and AutoCAD classic. How ever you can create your own work spaces as well.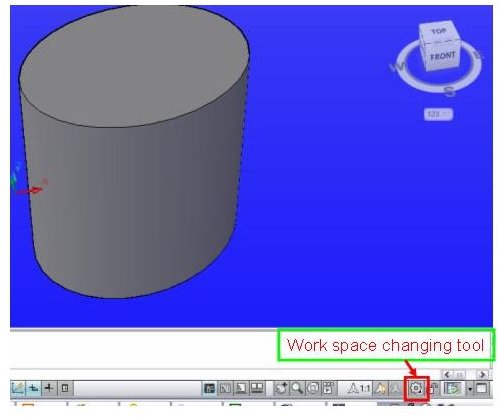 Look at the snap, you will find a gear kind of icon which I have marked is the work space changing tool, click on the fly out of it and all the available work spaces will be seen. Select the desired one and the drawing environment will change accordingly.
Another way to change work space is:
Menu browser>tools>workspaces
3D modeling work space: As the name indicates, this is for creating 3D model. You will get following 3D tools over here:
Cylinder: You can create cylinder by specifying base circle diameter and height.
Cone: you need to specify base circle and height.
Sphere: Specify the radius to get sphere.
Extrude: This is the most commonly used tool in 3D. You need to create a section first and then needs to specify height to get the final extruded geometry.
Loft: Solid and surface could be generated by this command using two or more cross sections. For example if you use all the cross sections as a circle, you will get cylinder by this command.
Revolve: Creating a section and revolving it with respect to an axis, you can create geometry.
View cube and steering wheels are used very effectively in this work space.
2D drafting & annotation workspace: This is suitable for 2D drafting, no 3D tools are available in this work spaces. You will get drawing tools like, line, circle, rectangle etc. and modify tools like mirror, trim etc. Though you can bring view cube in this work spaces as well but it does not help much.
AutoCAD classic workspaces: If still not comfortable with new AutoCAD 2009 and are missing the good old AutoCAD interface then this work space is perfect for you. You will get the same look as old AutoCAD.
Work spaces are ready made GUI templates available with new AutoCAD 2009. We have three default work spaces (3D modeling, 2D drafting and annotation and AutoCAD classic), as the name indicates, these three workspace are filled with the relevant commands and functions. You can switch from one work space to another easily.