Introduction
When creating a sketch, it is sometimes easier to define certain relations between sketch entities – instead (or in addition to) setting the entities dimensions. Moreover, a "good" sketch should be "completely defined" – otherwise sketch alteration can lead to unexpected and unpleasant results. In this article we deal with line and line-to-line relations.
Quadrangle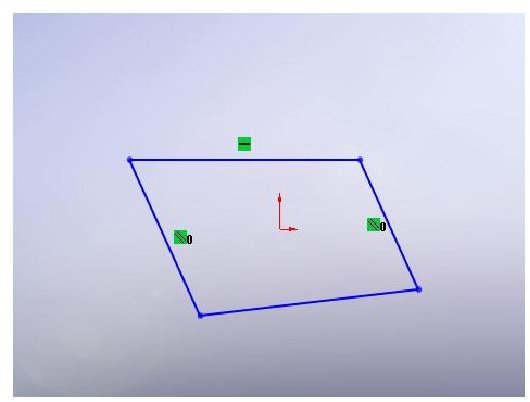 Identifying relations
Look at the sketch above. You can see 4 lines, which already have certain relations (some of them can "appear" during line creation). 2 lines are parallel to each other, 1 line is horizontal. Suppose, we want to turn this quadrangle into a right-angle trapeze – what relations should we add?Well, first of all, let's make the upper and lower bases parallel. Since the upper base is already a horizontal line, let's do the same with the lower base:
Select the lower line (Click on it) – you will see line properties window on the left of your screen. Choose "horizontal" relation.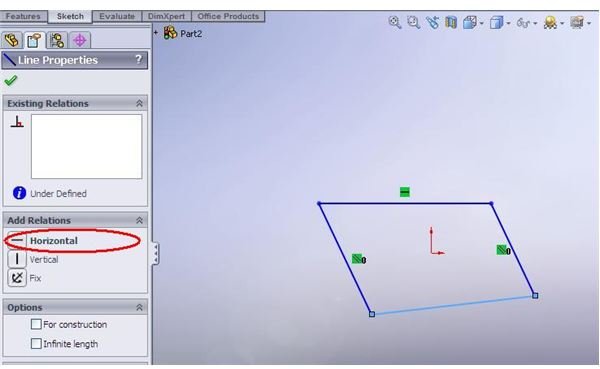 New Relation
Now, let's make one of the side lines vertical (remember, we want a right-angle trapeze).Click on the left line, and choose "vertical"… Ooops, the second line became vertical as well – that's because the lines are defined as parallel!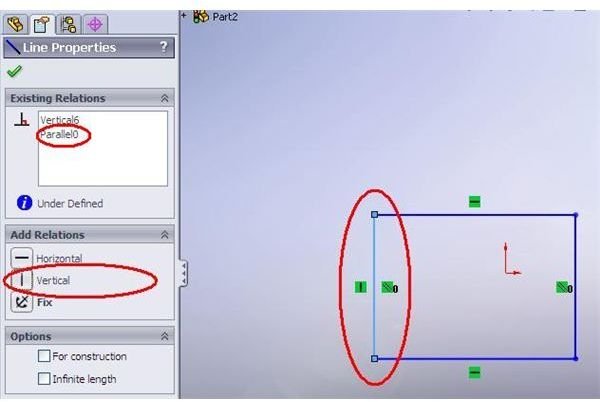 We need to delete this relationship. It can be done by one of the 3 ways:
The easiest one is clicking on the parallel icon and pressing delete.

However, since we are already "inside" line's properties, we can edit the existing relations in the window on screen-left.

The third way – is to view ALL the relations of the sketch, by pressing the "Display/Delete Relations" button in the sketch menu.
Use either way to delete the parallel relation between the lines. No, set the dimensions of you trapeze – click on each line to define its length. You can also define the angle between 2 lines – just click on 2 lines when inside the "dimensioning" feature. Your trapeze is ready!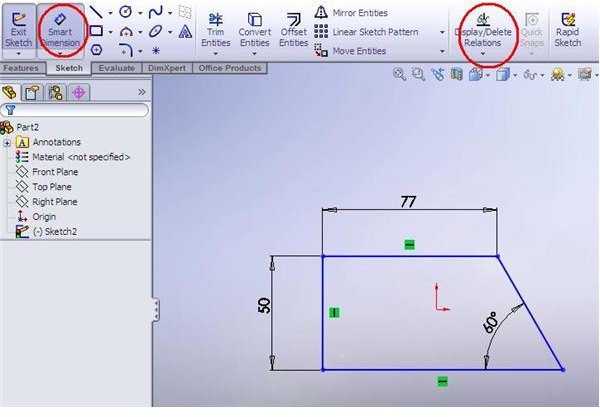 Editing and more
If you want to turn the trapeze into a parallelogram – you will have to delete the vertical relation of the left line (just select it and press delete), and set a new relation between the side lines.
To do that – select 2 lines (by pressing and holding CTRL you can select multiple entities). Once you do that – you will automatically see the "add relations" window on the left. Press "Parallel" – and your trapeze will turn into parallelogram!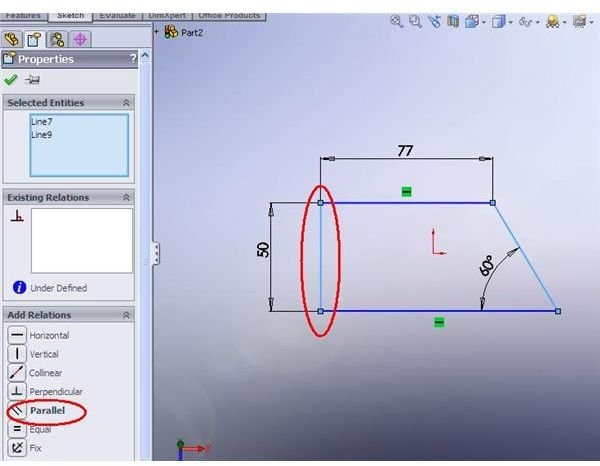 But that's not all! – in the next article, we will discuss the line-point and line-arc relations.