Light Pipes and Daylighting Can Distribute Sunlight in a Building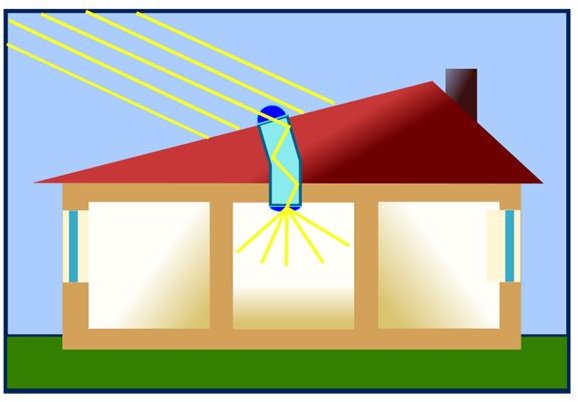 The Importance of Natural Light and Ways Light Pipes Can Help
Architects emphasize the use of natural light for buildings, because it has a beneficial effect on performance and health in humans working under such light. There is also the added benefit that natural light reduces the need for artificial light and thus reduces energy usage. Studies have shown that performance of students is greatly affected by the duration of daylight in their schedules and thus letting natural light into school buildings and class rooms is very much to be desired. The use of artificial light disrupts the human system which is inured to a pattern of night and day in a 24 hour pattern. This can cause health problems especially in the elderly.
Light pipes and daylighting are used to distribute natural light and can also be used for artificial light. Light pipes are used to transport light to locations away from the source with a minimum loss of light. Light pipes can be transparent and distribute light over their entire length or designed in such a way that the light is transported and its leakage is controlled at the point where it is to be used. The concept of light pipes was originally developed by the Egyptians in ancient times. Commercial applications that used reflectors to transmit the light were developed in the 1850s.
The entrance point for natural light in a light pipe is generally a cupola or dome that has the function of collecting the light through glass or even direct exposure to the sun. Directional collectors or reflectors then collect the light for sending it down the tube. The better designed light pipes would also have the cupola or dome positioned so that it collects light at all times of the day.
Alternatively a surface that collects the light would be pointed at the sun through a heliostat or device that causes the collecting panel to be always pointed at the sun. As a light tube is not meant for capturing images, unlike a periscope, distortions make no difference to the light that is transmitted through the tube. Efficiencies in a light tube are the greatest when the tube is short and straight. However angled or flexible tubes use materials that have a reflectivity of almost 99 percent in the visible range. At the end point of a light tube a diffuser is used to spread the light within the room.
Image source: Wikipedia: light pipe
Developments in Light Pipe Technology
Optical fibers which are small diameter light tubes made entirely of glass can serve the same purpose, and such systems are already in commercial use. The advantage of optical fibers is the extreme flexibility that they have which allows them to be run easily in ducts. Most optical fiber applications use parabolic reflectors to track the sun and concentrate its light on the starting point for the fibers.
Prism light guides are the other development in light pipe technology. Thin films that incorporate microscopic prisms are put on to the inside of a tubular surface whose one end is exposed to sunlight. A prism light guide is a hollow light guide, unlike optical fibers which are closed.
A fluorescence system that uses polymer layers in a flat panel has been developed recently. These layers capture ultraviolet light and generate light that is green and red. This is then guided into the interior of the building where it is mixed with artificial blue light which converts the red and green light to white light. As ultra violet light is not affected by cloud cover, this system can work even in overcast conditions.
Advantages of Light Pipes
Solar light pipes are more amenable to heat insulation than skylights and conventional windows. Their flexibility allows them to be used in inner rooms which have no common walls with the exterior of a building.
Natural daily light exposure is enhanced by light pipes and can thus be of great use to people affected by seasonal affective disorders. Over-illumination, which can come from direct exposure to the sun, is also avoided by the use of light pipes.
The savings in energy by reduction in the use of artificial lights is too obvious an advantage. Light pipes and daylighting can also be used in hybrid set ups using both forms of light, and automation can be installed to keep the level of illumination constant.
Light pipes and daylighting use no electricity or other forms of energy and are therefore most suitable for use in wet areas like bathrooms and pools, where electrical fittings could become potential hazards.
The concept of light pipes and daylighting has vastly improved the scope for architects to design buildings that are not dependent on windows for light and ventilation. The light pipes can also be used for ventilation, and the involvement of HVAC engineers is leading to more developments.