What are Construction Crushers? How Construction Crusher Works?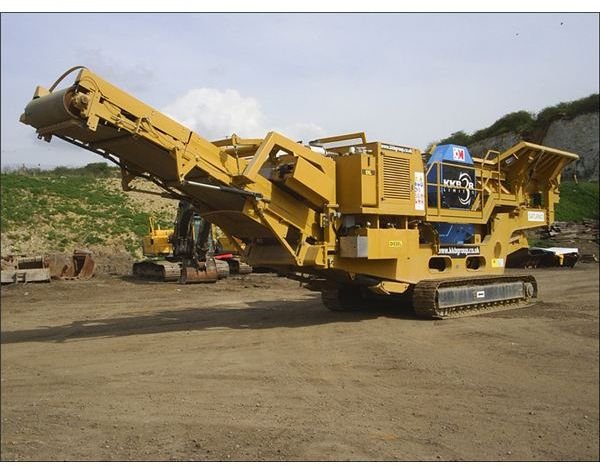 Basics of Crushers
A construction crusher signifies a piece of equipment that is intended to reduce the size of large rocks or gravel, for construction purposes. Crushers can also be utilized to transform the shape of waste matter for simplicity in disposal, or recycling. Crushers are also employed for reducing the raw materials mix size for their differentiation, and segregation. Crushing involves transmission of a force that is significantly increased, by using other materials with a greater bonding strength. These added materials being strong resist deformation, and the required substances are crushed easily. The crushing mechanism holds the material to be crushed between solid surfaces. A force is applied that brings the surfaces close to each other. Energy is generated within the materials to be crushed, and cause the separation of the molecules. The ancient crushers were stones held by hands. The stone weight enhanced the human energy being used.
Functioning Of Crushers
The raw materials of different sizes are brought to the hopper by trucks, or other means of transportation. A feeder mechanism regulates the speed of materials entrance at the crusher. A screening machine prevents the smaller parts from reaching the crusher. Main crushing decreases the size of larger pieces for easy management by the crusher. Some crushers can manage rocks, asphalt, and concrete into desired shape and dimensions by breaking, or compressing the materials. Crushers are normally classified by the size limit of the materials that can be processed by the crusher. Crushers reduce the particle size for further processing by grinders. There has not been much significant advancement in the crusher technology, except a few minor improvements. Protection mechanism has been introduced for the prevention of equipment damage, if hard objects enter the crusher. The rotating speed has been increased that has enhanced the speed of crushing.
Hydraulic Concrete Crushers
Concrete crushers that operate hydraulically are employed for the efficient demolition of concrete. They are also known as concrete
smashers and concrete processors. These crushers reduce the concrete size into pieces that can be easily managed or recycled, and also split the concrete from steel reinforcement. Numerous types of jaws are used, including the shear jaws, cracking jaws, and pulverizing jaws. The jaws used are in accordance with the material characteristics, and the size required by crushing. Secondary crushers are also employed to further demolish the rubble created by the primary crushers. The major advantages of hydraulic crushers are silent operations, reduced dust and vibrations, and ease in operation. These crushers can rotate on all sides, with the capability to perform numerous functions with the same demolition tool.