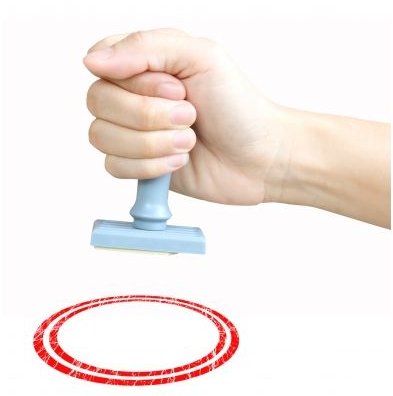 Every country has a governing or controlling body ensuring that every year a fixed number of construction engineers or experts register themselves into the trade so they can start practicing their work legally. With every passing year, the number of buildings being constructed all over the world is increasing at a rapid rate and so is the demand for skilled construction engineers. New certification courses have been started by Universities, and even the controlling bodies have changed their registration norms over years. Every country has different rules for certification, and different construction skills registering procedures apply. We will have a look at some of them in this article.
Image: Hand with rubber stamp, Sujin Jetkasettakorn
The Federal Scenario
In the US, different states have different rules for registering skilled construction experts. However, the basic guidelines remain the same throughout the country. As building codes and design practices vary from state to state, the registration process also changes accordingly. The basic requirement asks a person to fulfill the following conditions.
An exam has to be cleared in construction laws and building skills. The examination is conducted by every state, and the exam pattern may or may not be the same. Clearing the exam means you have all the skills required to become a certified and registered professional.
Licensing and registration gives you grades, for instance if you register in Texas, you will be awarded either Grade A or Grade B depending upon your previous work experience and financial statements. The Texas Department of Licensing and Regulation is the governing body monitoring and issuing licenses in the state. On the other hand, in Arkansas, the Contractors Licensing Board is the governing body for issuing licenses.
The prerequisite to work as a professional is a degree, diploma, or certification course. A high school diploma or engineering degree is must and the applicant must be above 18 years of age.
There are many associations and institutes that offer certification programs in construction skills. The National Institute for Certification in Engineering Technologies runs certification programs in building construction, transportation, construction materials testing, and other Civil Engineering technologies. There are colleges like Bluegrass Community and Technical College, National Association of Safety Professionals, and Ellsworth Community College that offer certification courses and diplomas for the construction industry. Youth Build USA is one such program that helps low income young people to learn while they earn. The program offers on-site experience at the construction sites while students complete their certification courses at the same time.
Certification in the United Kingdom
As compared to the US, the age requirements and other basic requirements change in UK. The minimum age for some certification courses is 16 years at the time of leaving school. The Construction Skills Certification Scheme (CSCS) is the most popular certification program in the UK. The main aim of CSCS is to ensure better safety practices in the construction industry and improve the quality of work. Under the scheme, one is supposed to contact CSCS officials and ask for new registration. Depending upon your education and job experience, a CSCS Card will be provided to you that serve as an indication of your skill level. There are mainly 11 types of cards, and they are accepted by many construction companies and organizations as a proof of your skill.
National Construction College in UK is one destination where construction certification courses are offered. City and Guilds is also a reputed provider of vocational qualifications. The prerequisite remains National Vocational Qualification (NVQ) and most of the certificate courses ask for NVQ level 2. Working people and students both can enroll for NVQ. A good number of colleges in the UK offer NVQ certificates.
Certification in India
Developing nations like India and China have emerged as the biggest markets for the construction industry. Residential areas, special economic zones, shopping malls, universities and a lot of other things are being constructed in these countries. As compared to any other country, these two nations require civil engineering experts in huge numbers. In India, the respective states consider diploma and degree holders as trained qualified professionals. However, to start practicing and getting contracts, one needs to register with the state government. The state governments give Grades, and a civil engineering graduate directly gets a Grade B certificate. Grade A certificate is given only when you have the desired experience and turnover. Diploma holders are given Grade C certificate and they can take up small construction jobs. The safety norms are not yet stringent in the developing nations, including India and China, but things are improving gradually as new guidelines are being worked on. There are many engineering colleges in India that offer a full time engineering degree that stands valid for Grade B registration. There are short term vocational courses that enable a person to work with the contractors. The duration varies from one year to three years.
References
Contractor's License Reference Site, URL
Construction Skills Certification Scheme, CSCS.UK
Construction Skills, Cskills
Education and Learning, Directgov